Roger's interdiction on the Manhay front didnt hurt me as much as I thought it was going to. Most of my units till received supplies, although they were unable to receive replacements. Remember that in BIN, that is it possible that your supply net may be strong enough to allow raw supplies (bullets) through but not allow you to take replacements. The supply to my units was yellow, which means just that. Supplies - but no replacements allowed. So whilst my units are not in the red yet.. they arent getting any replacements! So things still look bad - but not as bad as I thought it may have been.
Around Bastogne, I saw an opportunity to assault a single Allied Anti Tank unit.. so I took it. I expect Houffalize to fall this turn.. but it didnt, so I have done my best to reinforce it.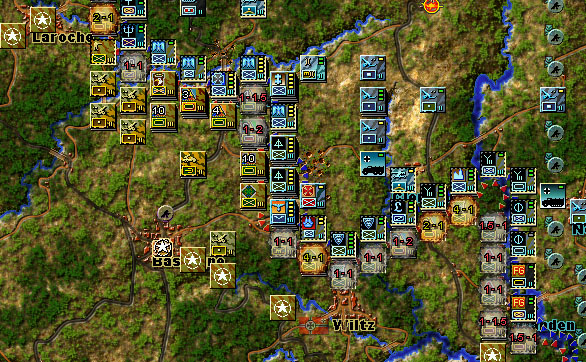 Lets have a look at whats happening around Elsenborn.. for the last few days Roger has been using his Barrage capable ART to blow holes in my west wall!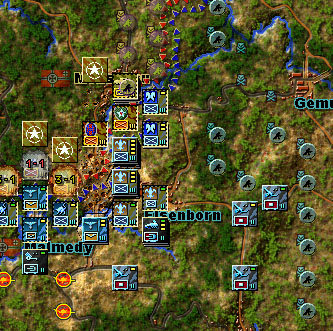 Now he has moved some units into the area poised for an assault next turn.. which just happens to be the first turn on snow!