Did the interdiction hurt? Well it pinched me.. it wasnt a punch.. but it was a sharp pain and an indication of what is to come..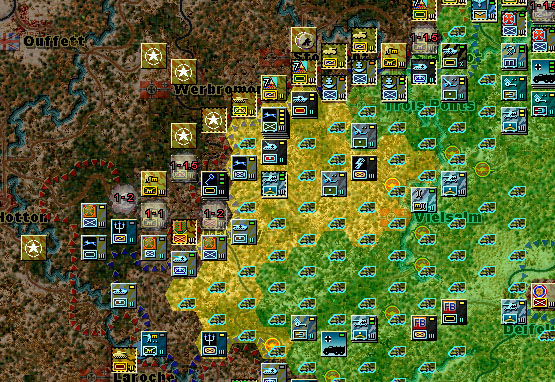 Here is what the supply looks like up front.. the darkened hexes are not getting any supply, and you can see where my units here have advanced this turn. The yellow hexes are getting supplies.. but they are minimal, and the green are in full supply. Roger may want to provide some more context around this, or correct me if I have interpreted that incorrectly.
Here also is a look at what most of my units look like that are in the front..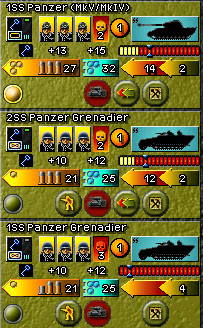 Notice the new fuel gauge on the unit display.. this is an indication of each units supply state and reserves.. red red red.. this tells you that the units are not carrying alot of fuel and if they cant replenish from supply trucks or other supply sources they are going to be going nowhere fast.
Elsewhere.. Elsenborn fell this turn... it was luck! I needed to roll a 6 for a retreat and I did.. it was my first combat of the turn... and after I rolled that I was committed to finishing the turn tonight

The other semi interesting spot is around Bastogne.. its not going to amount to much because Allied Interdiction next turn will put me in my place, but.. I did manage to kill a unit or two and my Recon unit has spied some soft targets in the centre.. I cant advise you how valuable Recon units are now in this game..