This is my first attempt to create a "Gothic Line" scenario.
My idea is to release at least a PBEM playable scenario then work deeper on AI
I need help on OOB and strongpoints locations and please feel free to suggest whatever you want.
max
**** UPDATE ****
it seems that the first part of the work it nearly complete. This the frontline
On the right side of the frontline, the three objectives (Fano, Saltare e Patriano) are the first OMA for the II Polish Corps (3th Carpathian Rifle Division and 5th Kresowa Infantry Division). Defensive duties by the LXXVI Panzer Korps (278 Infantry Division, 71 Infantry Division).
On left front the city of Urbino (defended by the 5th Mountain Div) is under the attack of the I Canadian Corps (1st Infantry Div., 2nd NZ Div, 5th Armoured Div.3rd Greek Mountain Div. plus a tank brigade).
On the northern sector, th 26th Panzer div. and the 1st Parachute Div. are on hold (in fact they don't report enemy activity).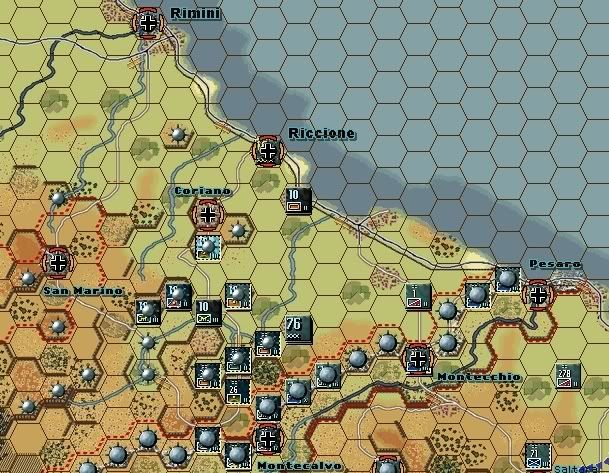 ****** TODO LIST ***********
There's a lot still to do other than beta test the scenario, this is a list of priorities:
1) probably redraw all graphics for the rivers, actually it could be confusing.
2) weather...will read some info about, there are 27 turn spanning from August 25 to September 21 (Rimini fell to 8th Army)
3) Aircraft activity on this sector, both axis and allied.
4) Battle timeline deeper study and OMA's related changes.
5) Victory conditions more balanced.
6) other modifications for a challenging game.
Please feel free to send feedback
thanks