Kharkov Soviet Turn 14

South Western Front
Northern Sector 21st, 28th, and 38th Armies
German forces have abandoned their attempt to take Liptsy and are now heading around the Soviet position, though they do attack the SW front units causing some heavy casualties, but otherwise not much else happens. In the Chuguyev pocket German forces advance to scout the area destroying numerous strong points but again nothing much else is happening.
Turn 14 Start North
The Soviet SW front units attack the units of the 23rd Pz but though causing some casualties, do not destroy anything. These units then reinforced with 8th Mot to form into a defensive position and the troops of the 21st and 28th do likewise, the chance of getting into Belograd have pretty much evaporated, not that it was that high anyway. In the 38th Army area the bridge at Zimev is blown and some troops take up defensive positions juts behind the town, while the garrison at Chuguyev is reinforced.
Turn 14 End North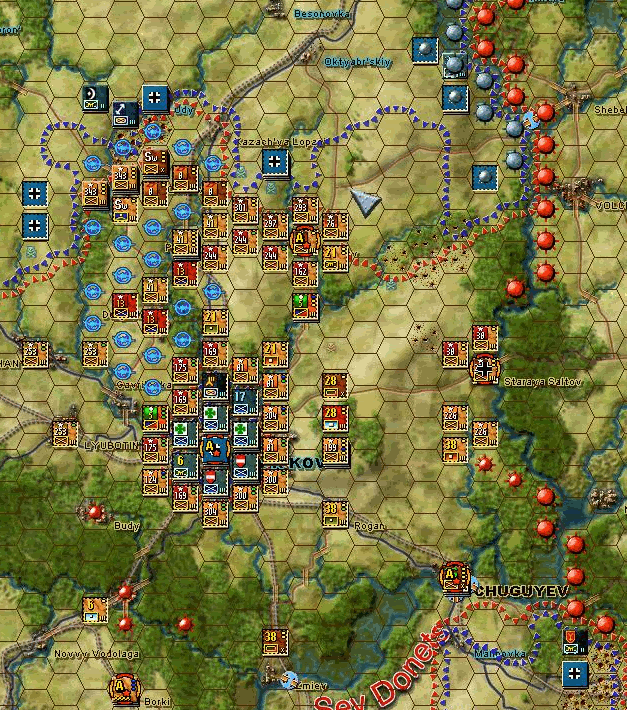 Central Sector 6th Army, Army Group Bobkin, 21st and 23rd Tank Corps and 2nd and 6th Cavalry Corps
6th Army and 21st and 23rd Tank Corps, Army Group Bobkin plus the 2nd and 6th Cavalry Corps
The Germans have finally taken Perechipino and wiped out all the defenders, and then have headed north in strength along the main road to Lannya and Krosnograd, but have not really made any progress into Soviet defensive positions.
Turn 14 Start South West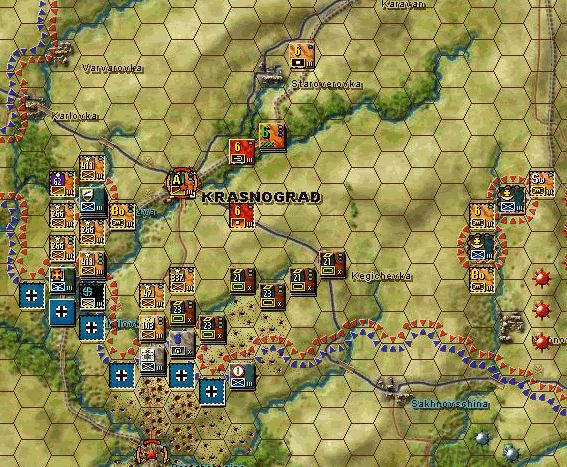 There are some limited opportunities for counter attacking the German troops, but nothing works apart from causing some casualties, after the attacks stop, Soviet forces retreat into strong defensive positions and await the next German probe.
Turn 14 End South west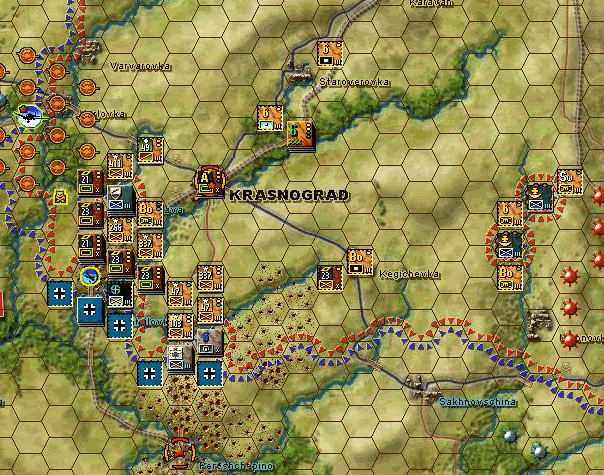 Turn 14 Kills South west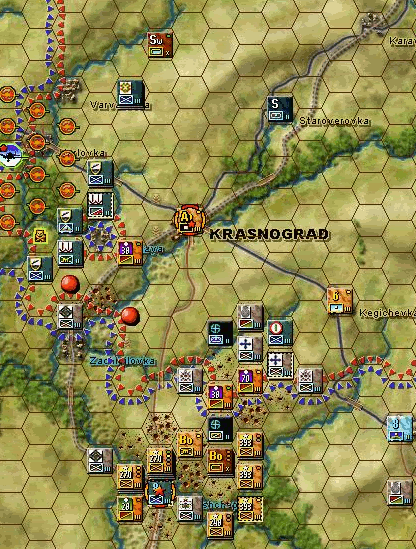 Southern Front
Southern Sector 57th and 9th Armies
9th Army & 57th Armies
German forces from the 1st Pz Army have moved into the Chuguyev pocket and destroyed a number of strong points, but otherwise not really penetrated the Soviet defenses. Further south some of the surrounded units of the 9th and 57th Armies have been destroyed and then south west of Izyum the remaining cavalry of the 5th Cavalry corps have also been eliminated though not before destroying a pioneer Bn.
Turn 14 Start South east
There is now very little Soviet forces can do in the south east sector as German troops have redeployed to cover their weak points. But the southern front attached troops and some from 9th Army combine to attack some German troops and they manage to destroy them before falling back into defensive positions. Its now likely that I will move there remaining troops out of harms way for the last couple of turns unless there is a good combat opportunity.
Turn 14 End South east
Turn 14 Kills South east
The Soviet lead stays about the same again this turn but I would still expect it to get above 4,000 Vp's in the near future and that will probable be the winning margin.
Turn 14 VP's