Kharkov Soviet Turn 8
The Soviet perimeter is still expanding in a couple of places, and with the expected arrival of the large number of replacements next turn (courtesy of Barevkovo and Izyum), it should allow Soviet forces to recover up to full strength as well as proving a useful reserve for later in the game.
South Western Front
Northern Sector 21st, 28th, and 38th Armies
In the 21st Army sector troops revert to a defensive posture and spend their time refitting and relocating into their defensive positions in preparation for the expected assault by 29th Korps.
Turn 8 Start North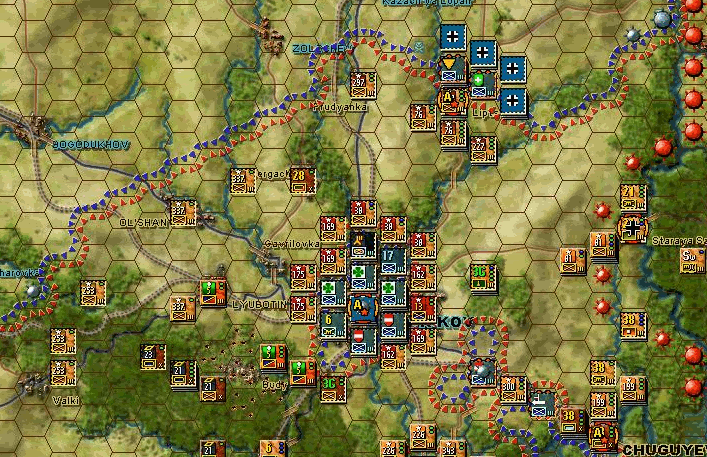 The 28th Army continues to dig-in about Kharkov as other Armies have higher priorities for the next few turns, it maybe after 38th Army has finished its mopping up operations it will take over some of the 28th Army defensive duties or help in the launch of an offensive to take Kharkov block by block.
The 3rd Guards Cavalry Corps spends mots of its time refitting or setting up defensive positions with the units of 28th Army.
The 38th Army continues its reduction of 51st Korps units as another regiment is destroyed, other units units not engaged in the battle start to clear the Chuguyev pocket and note some German units trying to escape east. Next turn the plan is try and reduce the last units of 51st Korps north of the pocket, finish clearing the pocket and track down any remaining German stragglers.
Turn 8 End North
Turn 8 Kills north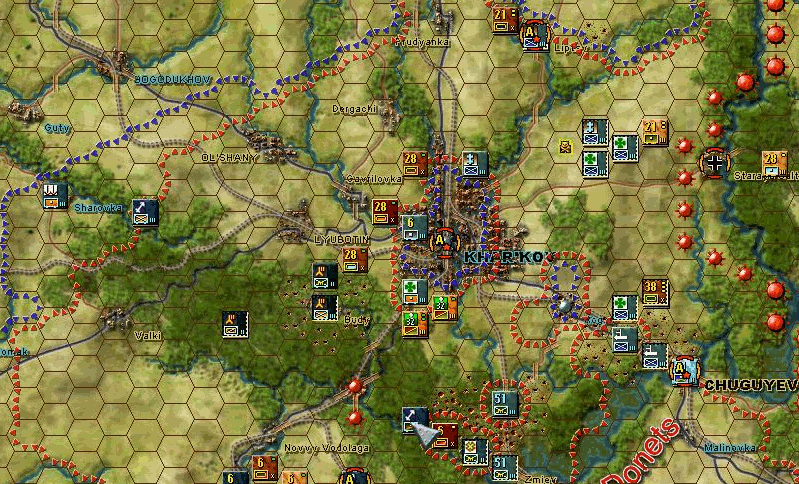 Central Sector 6th Army, Army Group Bobkin, 21st and 23rd Tank Corps and 2nd and 6th Cavalry Corps
6th Army and 21st and 23rd Tank Corps
6th Army units in co-operation with SW front reserves and 21st Tank Corps remove two small pockets of resistance. The plan will be for next turn to remove the last remaining pocket of 8th Korps troops along the river and then dispatch the troops elsewhere.
Turn 8 Start Center
The 23rd Tank Corp is sent south to the Krosnograd region,though the expected assault on Lannya does not happen due to lack of arty success, their will be another chance next turn.
Turn 8 End Center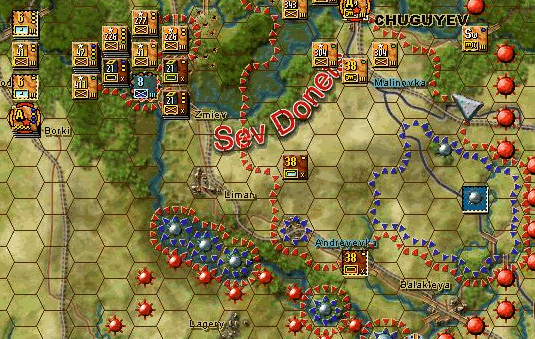 Army Group Bobkin plus the 2nd and 6th Cavalry Corps
German forces continue to push forward though slowly and covered by massive amounts of interdiction in the AG Bobkin sector about Perechipino, though the plan was to take up defensive positions, there are some options for counter attacking that can not be wasted.
Turn 8 Start South west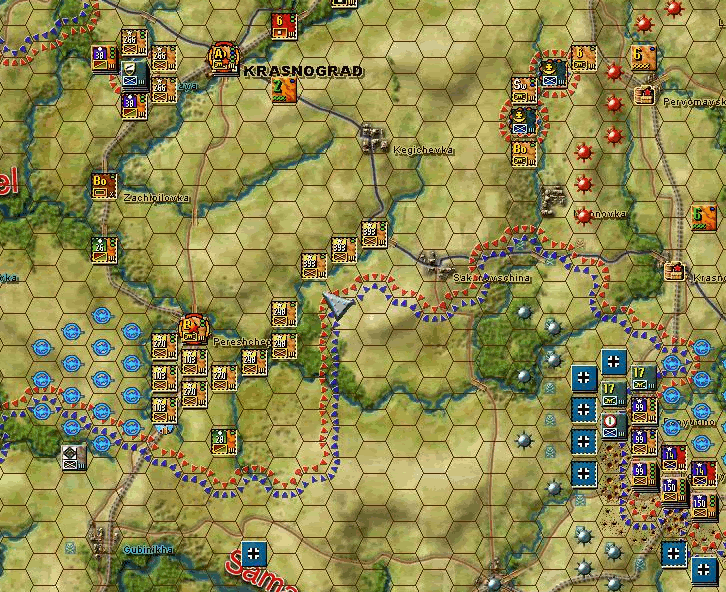 The armour and cavalry attack two regiments of the Romanian 20th Division, which results in two regiments being destroyed, though some cavalry are out on a bit of a limb because of this. Some interdiction is placed to help them out, and they maybe OK as the 389th and Wiking have been spotted further to the east pounding on 57th Army.
Turn 8 End South west
Turn 8 Kills South west
Southern Front
Southern Sector 57th and 9th Armies
Turn 8 Start South east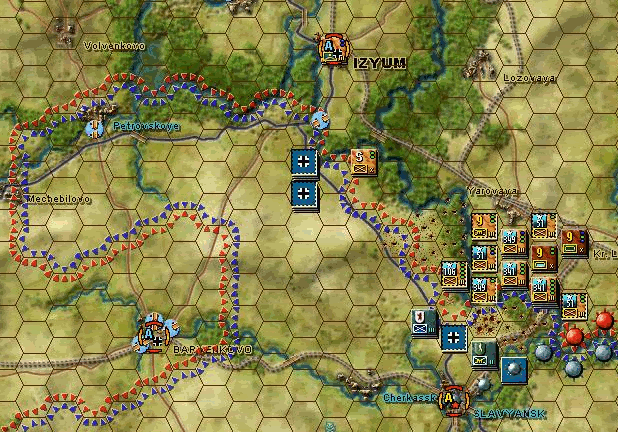 9th Army
The 9th Army reverts to a defensive posture behind the major river, though the chance is taken to destroy a German strong point. It will await on opportunities after 1st Pz Army has headed north with the expected reinforcements from the Southern front.
57th Army
An unexpected development as the 57th Army is made the major focus of German operations in the south with lavish use of air power and arty used in the assault which cause havoc. This though may have a hidden benefit as it means the 389th and Wiking are not concentrating further to the west against AG Bobkin and the VP locations.
A small counter attack is launched which results in the destruction of the engineer for the 389th but otherwise i expect 57th Army to be severely reduced in strength next turn as a number of units are down to one step.
Turn 8 End South east
Turn 8 Kills South east
At the end of the turn the Soviets had a lead of some 3,100 – 3,200 Vp's.