OPERATION MARKET GARDEN ALLIED TURN 1
XXX Corps
XXX Corps has got a number of things to do on turn 1, get as far up the main highway as possible and kill as many Axis units as possible. The kills screen shot shows the kills XXX Corps achieved on turn 1, in addition below I have summerised what I think is the best possible start for XXX Corps on turn 1.
Along with the normal kills along the road and to the east before the river, the following things are possible on turn 1 depending on other combat results.
(Hex 7,106 - 2nd Bn 6 Fallschrimjager Regt)
It is possible to take out the unit marked A on the map as follows, use an air and artillery strike after it has been spotted by a recon unit.
(Hex 10,100 – Pioneer Company 6 FJ Reg)
It is possible to take out the unit marked B on the map as follows. It can be taken out as above, but there is a better way as along as there is minimal residue when clearing out the strong points that surround XXX corps at the start. Ideally 2 armoured units of the RTR and 1 recon unit of the Welsh Guards should get to hex (10,101) and then use the special attack bonus, this will produce an automatic kill.
(Hex 22,107 – Falls'Jager Regt Grossmehl (D) and Hex 22,106 – 2 Bn 21 SS Pz Grenadier Regt (C))
It is possible to take out the units marked C and D on the map as follows. A carpet bomb is dropped on the 2 step unit at Hex (21,107) to the west, then another carpet bomb is dropped on D, D is then finished off with an artillery strike. C is then hit with an air strike and finished off with an artillery strike all being well.
(Hex 13,97 – Strong point)
This strong point should be hit by an air strike and if it fails an arty strike from the the heavy artillery at Hex (12,110).
(Hex 14,95 – Strong point: Valkenswaard)
It is possible to capture this place on turn 1. This should be first hit by an air strike and if that is successful an artillery strike ideally from the heavy artillery detailed above as that has the best chance of success, but if not 1 of the Guard AD, RTR or Hussars mobile artillery can get within range though success is not high.
10 SS Panzer Jager Battalion
Finally it may be possible to take out the above unit, though this depends on its variable start location, and can normally only be spotted if XXX Corps get as far as Valkenswasrd. If it is spotted it can be hit with an air strike and then a mobile artillery strike probable from the long range mobile Guards AD unit.
From reading the proceeding, there is more air strikes being used than there are available so some kind of priority must be given. My personnel preference is do the ones along the road first and if possible take out Valkenswaard before considering the units along the flanks.
From my start and the kills image below, I achieved about half of what i consider is possible so have probable done about par. In addition on turn 1 GAD gets a plus seven shift, while XXX Corps units only get plus five, so it can be worth using GAD units in attacks to get the extra shifts.
End of turn XXX Corps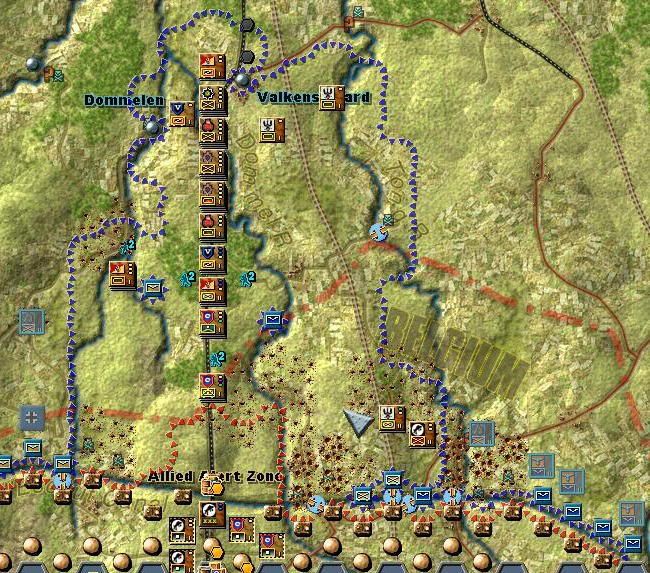 Kills Turn 1 XXX Corps
Best possible start for XXX Corps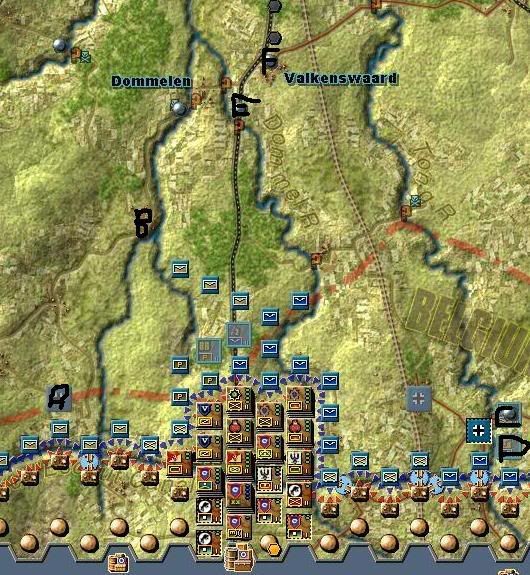 Airborne Forces
101st Airborne Sector
The 101st has probable had a sub par drop though, when moving units only the Zon bridge has blown (which is very likely (2-6 chance)). 101st objective is to try and gain a bridge across the Wilhelmina Canal, stop bridges being blown at St Odenrode and support the 501 Parachute Regiment in its drop to the north about Veghel, this includes gaining control of Hex (14,70) so units can cross the bridge.
The 501 Parachute Regiment has a number of Objectives, gain control of hex (12,68) Kovering, protect its supply source hex (12,65) and test the bridges south of Veghel. Of these bridges at 15,62, 15,64 and 19,67 have been blown by their alert garrisons. Hopefully the remaining bridges will remain standing.
Note: Rail bridges blow on a 4-6 while the highway bridges only blow on a 6 unless otherwise specified.
Start of Turn 101st
End of Turn 101st
82nd Airborne Sector
The 82nd has probable had a slightly above par drop, as its been possible to capture Grave on turn 1 Hex (26,44). Elsewhere units of the 82nd advance to expand the perimeter and a stroke of luck sees the bridge at hex (36, 41) blow. This is useful as its one of the avenues of approach for the 107 Panzer Brigade.
Start of Turn 82nd
End of Turn 82nd

1st Airborne Sector
The 1st has what i consider a very good drop as seen in conjunction with the random placement of German units, its allowed units to advance a considerable distance and get extra units into Arnhem which should make things interesting for German forces. As can be seen I have not blown the 2nd bridge along the Neder hoping that the 9th SS Recon unit will come across, though I think this is unlikely, it will either be blown on turn 2 or if it stays up I will try and keep it open for the moment.
Start of Turn 1st AB
End of Turn 1st AB
Placement of Air interdiction
I use one to the east to stop the escape of units in this sector easily and one in the north to slow the movement of the 10 SS Panzer Jager Battalion, as stopping this getting to Vgehel on turn 2 I consider a priority, even if it means allowing other units to escape to the east where 2 air interdictions means potentially a lot more can be captured as long as the bridge hex (21,107) remains standing.