Day 10
You can feel the tension in the air as enemy air and artillery strikes continue to take their toll on our rear area units. They are going to strike soon, hopefully we're ready for it.
Based on the patterns of enemy strikes and the placement of their interdictions, we are guessing that they are planning on trying to force their way into our defenses in the Bir El Harmat area. Throughout the day, our artillery and air power was massed on the enemy units that would be spearheading this effort.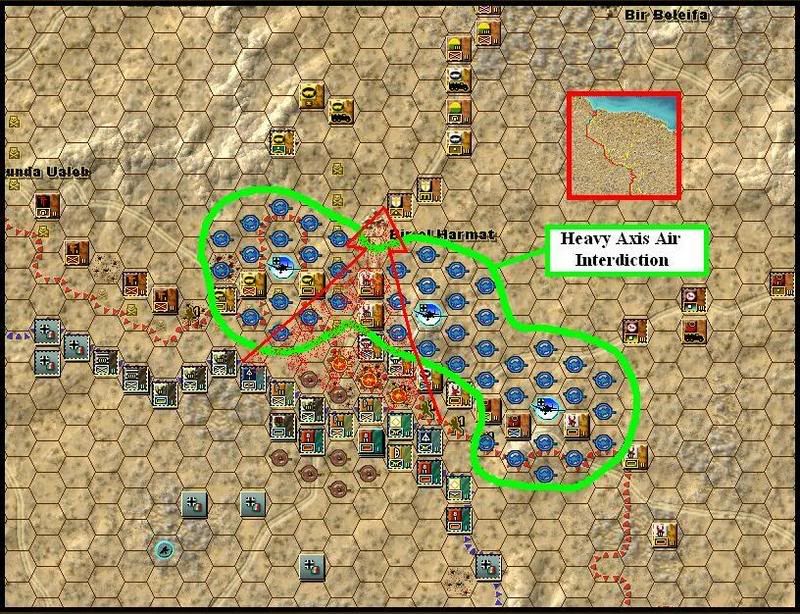 Above: Heavy Axis interdiction hits the main line south of Bir El Harmat. Since the air and artillery strikes seem particularly heavy in this area, we are going to assume that we have guessed right and this will be the main area of action.
Above: Enemy activity in the northern areas remains fairly quiet. They continue to probe and look for weak spots.
Above: In the wastelands between Alem Hamza and Rotunda Ualeb there appears to be very little happening. We are keeping an eye on the light Italian forces in this area, and they seem to be content just observing us as well.
Above: The northern flank of Rotunda Ualeb is still quiet and we feel confident in holding it against any Italian foray out of their minefield positions.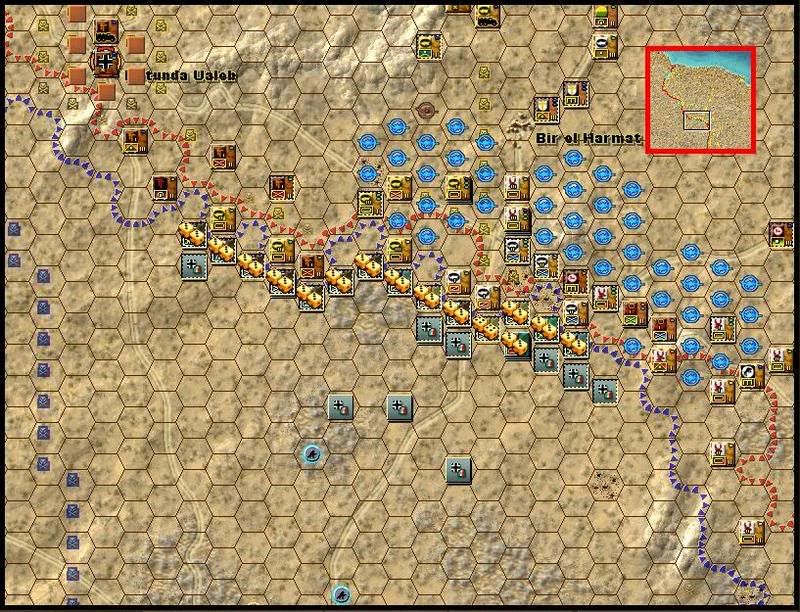 Above: This is where all the action is happening. Note that all artillery attacks that we conduct will be double-dice as the enemy is dug in and very close to us.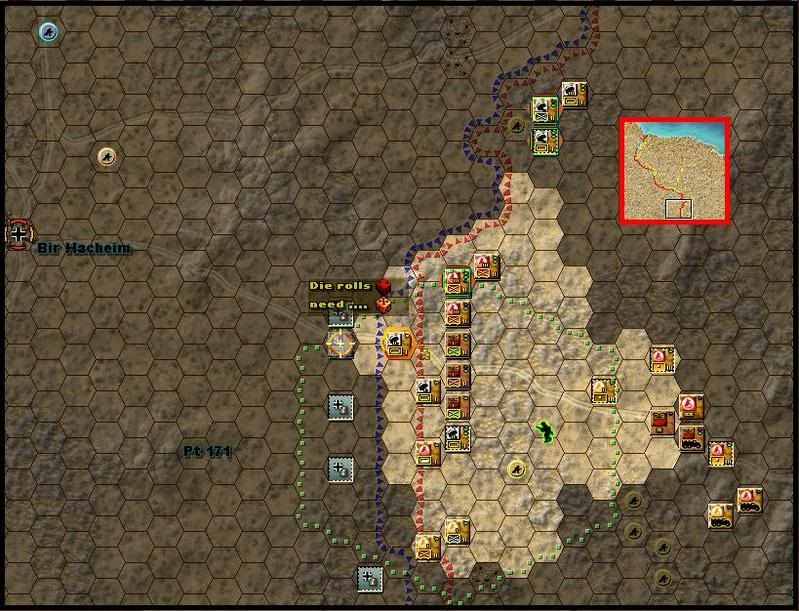 Above: An armored unit in a rare encounter in the far south... fire is exchanged but there are no losses to either side.
Above: We decide to expend some of our stockpiled artillery rounds on the close-in enemy positions. A hit destroys an enemy step here.
Above: And another one here.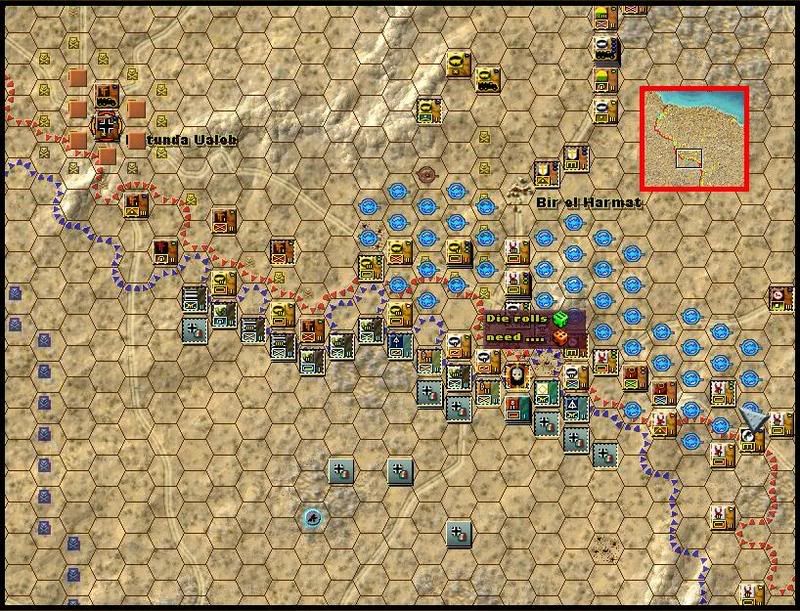 Above: Amazingly, the RAF finally shows up today and we have 3 airstrikes to use against the massing enemy formations. Here, a successful airstrike knocks out another enemy step.
Above: And another one here...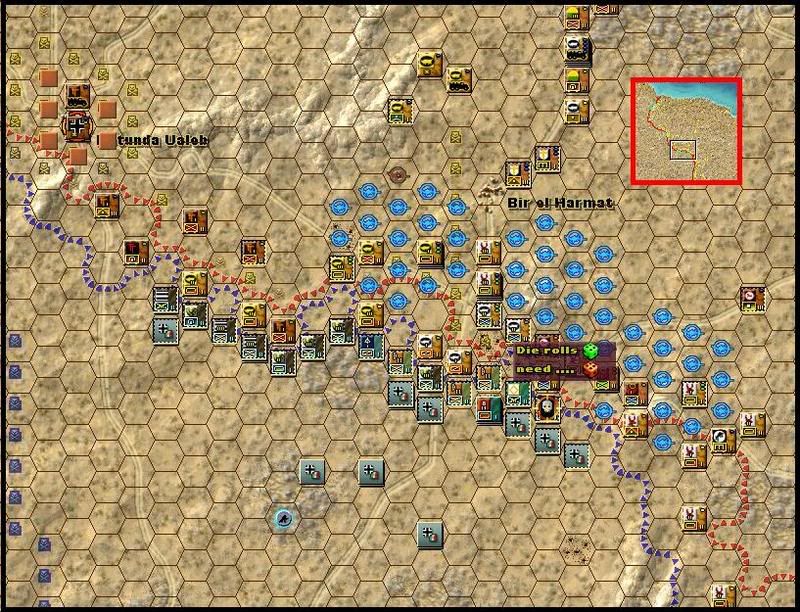 Above: And yet another, three for three! Now, if we could just convince them to return when the enemy launches his big offensive!
Above: Even after these losses are inflicted on the enemy, the odds are still very poor for us to launch any type of attacks.
Above: The end of turn situation in the far north.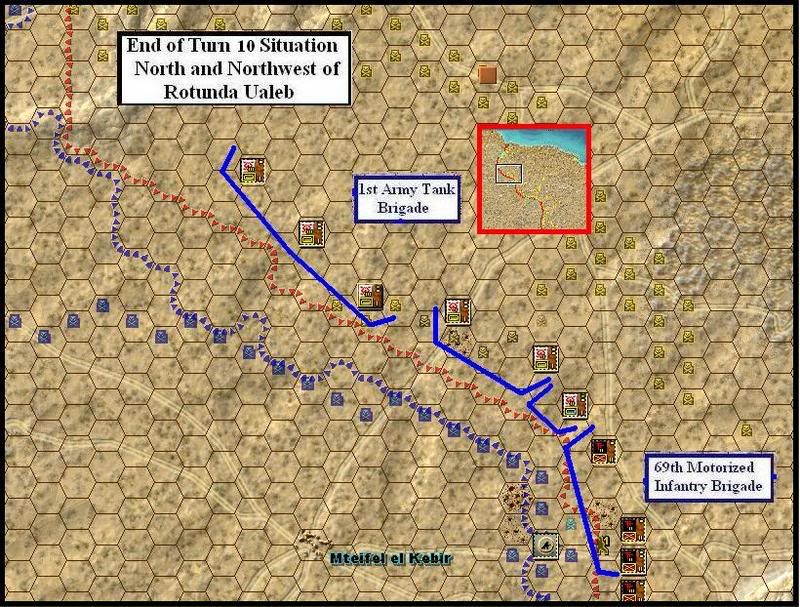 Above: The end of turn situation southeast of Alem Hamza.
Above: The end of turn situation northwest of Rotunda Ualeb.
Above: The end of turn situation southeast of Rotunda Ualeb. Note the arrival of 2 brigades of the 2nd South African Infantry Division. They may have arrived in the nick of time and are expected to strengthen the line considerably in this area... who knows, we may even be strong enough to attack soon.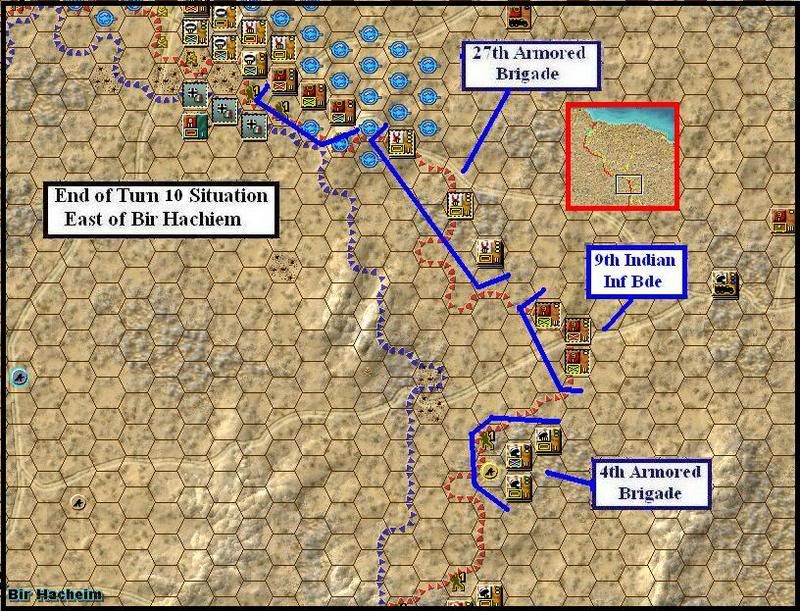 Above: The end of turn situation northeast of Bir Hacheim. This sector is quieting down considerably as enemy patrols range in close and then fade away into the sandstorms... they are not digging in and trying force the issue here.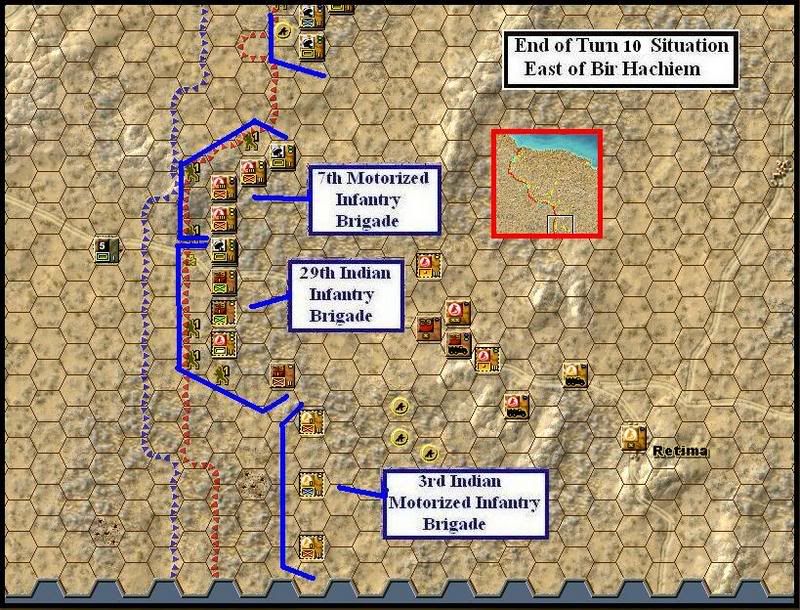 Above: The end of turn situation southeast of Bir Hacheim. The flank remains quiet and it feels fairly safe. The road leading east is well protected and even though the enemy is active here, he is not nearly as aggressive as in the Rotunda area. I think we have guessed right.