German Turn 16
4th Pz Armee
The Prajov and Nizhna Kalinovski sectors remain quite, though the 17th Pz Div continues to move towards the front at Kalatsch. The 17th Pz Div will move around the northern flank of the 385th Division and start to probe the flank and rear of the Soviet position, hopefully trying trying to pick off some support units.
Turn 16 End Nizhna Kalinovski
All remains quite at Nizhna Chirskaya with no other Soviet reinforcements spotted heading in this direction.
Turn 16 End Nizhna Chirskaya
Wiking and major elements of the 116th attack two regiments of the 15th GRD, killing one off and severely damaging another which will be killed off next turn. After this the two divisions will head north to reinforce the main positions or possibly in the case of Wiking be used to attack the Soviet 5th Tank Army flank with the 17th Pz Div.
Turn 16 End Wiking and 116th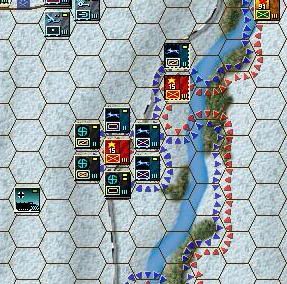 At Kalatsch west German units continue to dig in and a number of reinforcements are now placed behind the main defensive live. I now also start to shift some units into the Kalatsch perimeter proper, the first such unit is the recon of the 11th Pz Div and other units of this division and 336th are shifted closer to the bridges.
Turn 16 End Kalatsch West
Noakesy continues his relentless assault on the Kalatsch perimeter and i suffer more casualties in the form of step losses and am forced to give up some more ground leaving the way open for Noakesy to attack Kalatsch proper. I now have to hope for luck on the dice rolls to keep the Soviet forces out of Kalatsch.
Turn 16 End Kalatsch
6th Armee
As per the previous turn, at Peskovatka the 32nd Cavalry Division finally encircles the 76th Division but does not launch any attack, at Vertjatschi all remains quite.
Turn 16 End Peskovatka and Vertjatschi
Along the Marinowka front, a regiment of the 422nd pushes through the German line, an immediate counter attack is launched by several German units which force it back across the river and stabilises the situation. Further north elements of the 4th Mech and a recon unit probe the German position.
Turn 16 End Karpovka