Strategic Assessment
There are a number of towns worth varying amounts of VP's to the German cause, and an even larger number to the Russian cause. The most important of these in my opinion are as follows in no particular order:
Kalatsch*
Kalatsch Station
Marinowka
Sowetski
Karmenski*
Peskovatka*
Golubinskaya*
Nizhna Cjirskaya
Morozovsk
*It should be noted that if the Russians take and hold Karmenski, Peskovatka, Golubinskaya or Kalatsch the 1st Guards Mech Corps will be released. If Kalatsch plus any of the other two places are taken and held for a turn then the 1st and 2nd Mech Corps will be released along with all the support units.
German units are worth more in VP terms than their Russian counter parts, in addition Russian units have more timed replacements available, but normally take longer to cycle through. Also the German arty is superior in terms of range to their Russian counter parts in general.
Until the end of game becomes near, troops need to be kept in supply, any surrounded troops will be destroyed very easily as they run out of supply.
German forces are likely to need both Kalatsch and Kalatsch Station to stay in German hands for most of the game, otherwise the game is likely to be lost. The supply dump in Kalatsch Station is vital, do not allow any Russian troops to get next to it, if they do the supply base will be destroyed.
Initially the forces of the 4th Pz Armee and 6th Armee lack enough units to get a good defence in place across all the places they need to on the map. 6th Army has the job of defending along the river to the east of Kalatsch to the edge of the map with units of the XIV Pz Korps and using the units of XI Korps to defend the river line to the north, with Peskovatka being a major place to Garrison, other units should head to along the river to try and form some kind of line between Peskovatka and Kalatsch along the river. 4th Pz Armee has the job of holding the line along the river in the south to Guard Nizhna Chirskaya, stopping the Russian 5th Guards Armee from cutting Kalatsch off from supply and further reinforcements from the west and also safeguarding its own supply lines.
In addition keeping German units alive is a must, as well as being flexible in defence and throwing in local counter attacks where possible. All being well near the end of the game, a German player may be able to go onto a more general offensive once all reinforcements have arrived and losses not being to severe. In addition where possible try and push out the German line to gain more space to manoeuvre and stop Russian units being able to dig in. Also use your strong points and mines wisely to help in your strategic defence of critical areas.
Though this is a meeting engagement, German forces will be by and large be on the defensive and Russian units on the offensive. Use your recon units wisely and if the chance permits get rid of the Russian recon units.
German Turn 1
This is the only turn were you have totally un-hampered movement restrictions, make use of it.
4th Pz Armee
(XLVIII Pz Korps) 11th Pz Div is sent east towards Kalatsch to guard the western approach to the city, all support units and the Army HQ are also sent east using extended movement. 22Pz Div Recon is sent east with a armour replacement to wards the bridge east of the Nizhna Chirskaya to guards this crossing point.
4th Pz Armee
2/619 Sec Bn at Loki Station moves 1 hex east before retreating to wards the bridge east of Nizhna Chirskaya. This one movement east will stop the STG front recon capturing Loki Station on turn 1.
6th Armee
(XIV Pz Korps) 16th and 24th Pz Div are sent west towards Kalatsch., 100 Jg Div is used to expand out the front line south of Marinowka and Karpovka. Arty is sent east to get to Kalatsch, while the Army HQ is based north of Marinowka all of these forces use extended movement. (Originally I used to send this towards Kalatsch, but since concluded after a number of games it is better off based near Marinowka).
XIV Pz Korps End Positions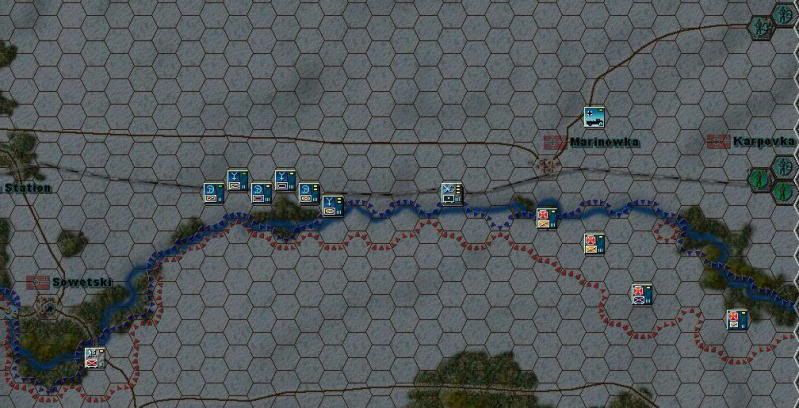 (XI Korps) 44th and 376th I Div's and other units are sent towards Pestovatka using extended movement.
XI Korps End Positions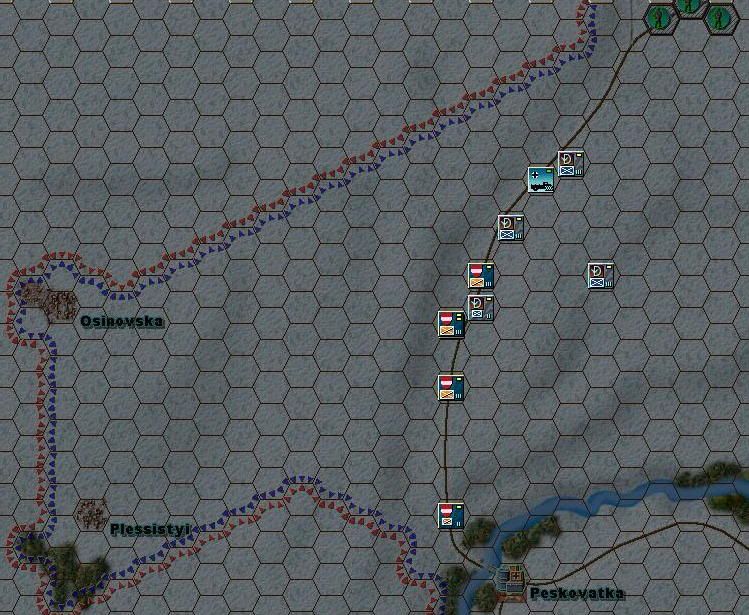 Units based at Kalatsch. 1/619 Sec Bn is used to expand the front line south of the Bridge at Sowetski. The 6th Armee HQ is used to expand the front line west of Kalatsch. The 2/NSKK Bn is sent towards Golubinskaya as a Temporary Guard.
Kalatsch Force End Positions
The lone air interdiction is used to at hex 33,15 to slow the forces of the 5th Tank Army, if not then one of the Guards Rifle Divisions will use truck movement and get to the border of the German defences at Katsckalinlsi on turn 1.