** Note that image quality for screen images in this AAR have been reduced to conserve bandwidth and make it friendly for our readers who are on dial up. **
In the few hours before the main assault on the beaches, British and American Para units drop from the sky. Their orders (well the ones Im giving them are simple - well maybe not simple)..
The British Capture or at least contain Caen.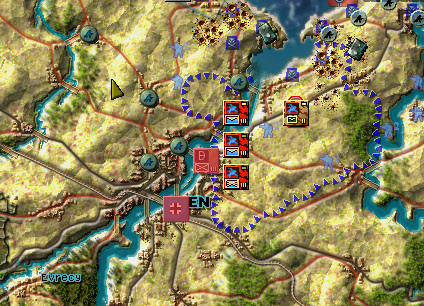 For the Americans, protect the beach head at Utah, confuse the German units and put some pressure on Carentan.
Whilst the British Para dropped in close proximity to each other, the Americans are further dispersed, with the 508 para taking heavy losses.
With Naval forces having varied success at bombarding German strongpoint positions on the coast, the Allied sea invasion begins. Here we have the British 3rd INF division coming a shore at Sword.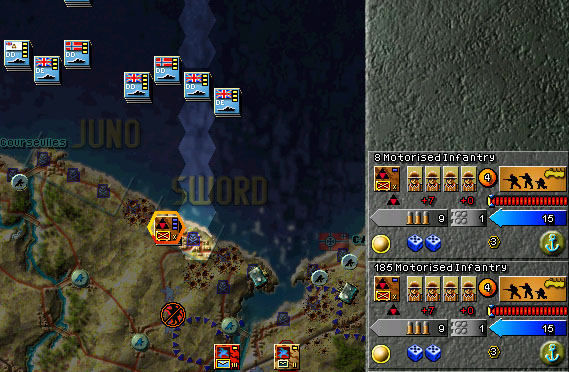 Still in their landing craft, you can see on the unit displays that there are two 2/6 chances (the blue die on the unit displays show that a roll of either 5 or higher will result in a step loss) that they will take losses as they hit the beaches. They finally come shore with minor losses (two units take 1 step each). Heavier losses are experienced by other British units - with some of the weaker ones taking extremely high losses and having their units disbanded as a result.
All up for the British beaches - it looks like this: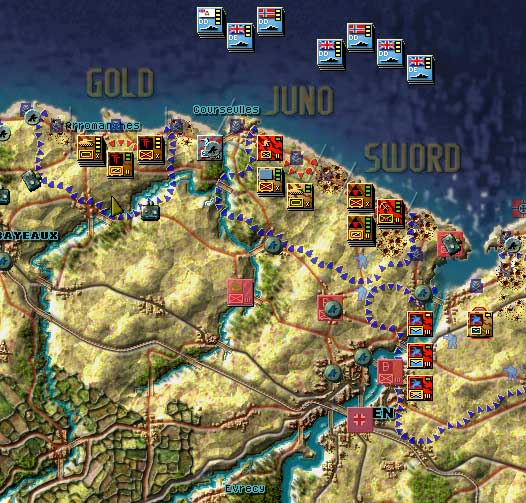 With the units at Juno taking the greatest losses (including a HQ/Supply unit coming under heavy fire and having to be disbanded), and those at Gold having the easiest landing.
British planes interdict Caen (although it is expected that the Germans have a high concentration of static AA defenses there), the roads leading into Caen, and those around Gold.
On the American Beaches, units come a shore at Utah almost unopposed.. at Omaha its a different story. With several German Units in defense and some very strong Coastal Defenses that the Navy were unable to dislodge. But whilst there was stiff opposition at Omaha.. the losses which I took were quite limited given the situation.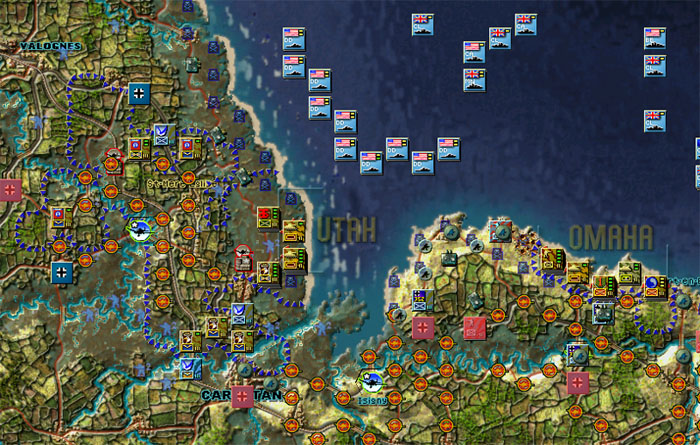 (note, image quality reduced due to compression and resizing)